Blaupunkt BT Drive Free 411 Car Steering Mount Bluetooth Wireless Handsfree MIC
Tips: Touch the image to zoom.
Tips: Touch the image to zoom.
Blaupunkt Technology Group is the leading provider of car entertainment and multimedia for the automobile industry, representing astounding quality and innovative technology symbol. Whether at work, sports, doing housework or in the garden, having your handsfree to multitask when using the telephone is becoming more and more of a priority to many users. As a result of Blaupunkt's inspiration and sophisticated Bluetooth technology, we proudly introduce you to this brand new Blaupunkt BT Drive free 411, exclusively designed for all the car users to use their mobile phones conveniently when driving. Conveniently mount to your steering wheel, you can now make calls in a jiffy!! End calls, make calls, redial or even reject calls!! This little marvel makes all these a piece of cake for you!! Incorporating the advanced microphone system and DSP technology for echo and noise suppression, you can now enjoy crystal clear sound quality when making calls. Also featuring automatic pairing with registered mobile phone, pairing your devices is just that simple. Just turn on The Bluetooth of your phone and stay connected in no time!! Equipped with light indicators and signal tone, you can identify its status with ease. Whether there is incoming call or battery low or even in standby mode, you can stay informed of its current status!! With supported range up to 10 meters, this cool piece allows you to stay connected to your paramount calls. Upon full charging, this stunning piece amazingly offers you call time up to 7 hours and standby time up to 300 hours!!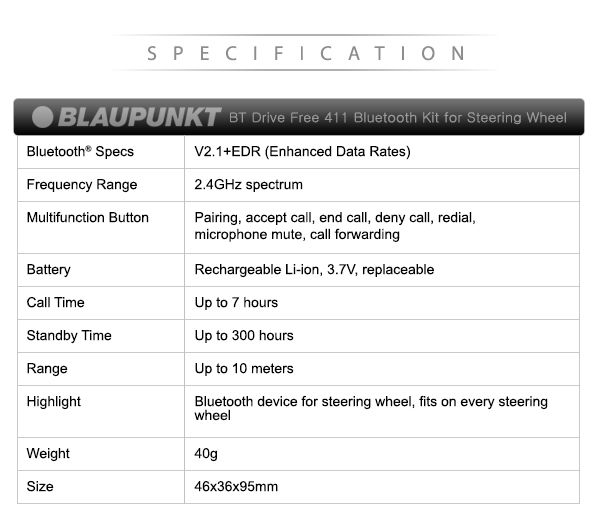 Returns & Exchange Policy
7-day return/replacement policy applies from the date customer receive the item.
For return/replacement claims:
STEP 1: Email HULALA at help@hulala.my and provide the following details:

Name :
Contact Number :
Delivery Address :
Voucher Number :
Reason of return :

STEP 2: Upon confirmation, HULALA's mailing address will be provided.
STEP 3: Faulty products must be delivered in its original packaging (including accessories, manuals, and documentation) to HULALA. Delivery costs to be covered by customer.
Replacement process will take place about 14 working days.
Return/Replacement claims which do not fulfill the steps above will not be processed due to missing information.
HULALA reserves the right, to change, modify, add, or remove portions of this Return/Replacement Policy at anytime. Changes will be effective with no further notice provided.
HULALA reserves the right to refuse any return/replacement claims for any reason at any given time.