HONDA Factory Dashboard Plug N Play USB Mobile Phone 2.1A Charger + Volt Meter
Tips: Touch the image to zoom.
Tips: Touch the image to zoom.
Getting tired of finding your cigarette lighter USB adapter each time you need to charge your devices in your car? Up for grab is this ingeniously designed Honda USB charging port cum Volt Meter which is extremely affordable and will come in handy especially when you are travelling around. As small as it may seems, this impressive little thing delivers supreme performance as it has high output current of 2.1A, allowing fast charging of your devices. Amazingly, this USB charging port also acts as a Volt Meter, featuring a tiny display to notify you of your current car voltage especially in the case of running out of voltage. Unlike universal USB charging port that may fit various car, this USB charging port is made to fit perfectly Honda car model so it can utilize the existing factory mounting point. This makes the installation easy-peasy and no modification or drilling is needed as it is just a simple plug and play mechanism!! Hence, this Honda USB charging port provides perfect and snug fitment that you would expect from a tailor-made design.
Well, what are you waiting for? Stylish, affordable and yet multi-functional. Come and grab one and enjoy the fast charging of your devices in a jiffy. Brand new in a box and comes with one year warranty.
FEATURES
Output power voltage: approximately DC 12V

Current output: 2.1A

Temperature range: 0-40 degree Celsius

Small screen displaying the voltage

Compatible with most of the devices such as camera, smartphones, iPod, mp3 player, mp4 player, tablet PC

Made specifically for Honda
PACKAGE CONTENT
1X USB Charging Port

1X English Instruction Manual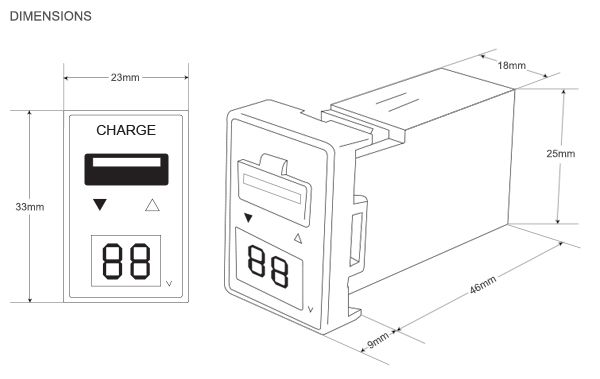 Returns & Exchange Policy
7-day return/replacement policy applies from the date customer receive the item.
For return/replacement claims:
STEP 1: Email HULALA at help@hulala.my and provide the following details:

Name :
Contact Number :
Delivery Address :
Voucher Number :
Reason of return :

STEP 2: Upon confirmation, HULALA's mailing address will be provided.
STEP 3: Faulty products must be delivered in its original packaging (including accessories, manuals, and documentation) to HULALA. Delivery costs to be covered by customer.
Replacement process will take place about 14 working days.
Return/Replacement claims which do not fulfill the steps above will not be processed due to missing information.
HULALA reserves the right, to change, modify, add, or remove portions of this Return/Replacement Policy at anytime. Changes will be effective with no further notice provided.
HULALA reserves the right to refuse any return/replacement claims for any reason at any given time.