(Pair) JDM Aluminium Front Splitters Bumper Diffuser w/ Proton R3 Reflectors
Tips: Touch the image to zoom.
Tips: Touch the image to zoom.
(Pair) JDM Aluminium Front Splitters Bumper Diffuser w/ Proton R3 Reflectors
New to our range of aerodynamic and styling products for road-cars is a complete universal front splitter kit.
Designed to be fitted to any road-going car with a suitable front spoiler, the Universal Front Splitter is a very effective aerodynamic enhancement for your vehicle which can considerably increase front downforce and reduce drag by smoothing the airflow around and under your front spoiler.
Front splitters of this variety have their roots in touring car, DTM and GT use but there is no reason why the same aerodynamic benefits cannot be gained by a wide variety of modified road-cars including Mitsubishi, Subaru, Vauxhall, Peugeot, Citroen, Ford, in fact just about any modified car.
Features
Fit on wheel arc
Multiple bolt locations to fit various types and shapes of bumpers
Does not require all bolt fittings, only bolt on those that fit your vehicle
Easy and flexible
Made from durable aluminum to withstand wear and tear
Light weight
Improve aerodynamics
Improve aesthetics and provide a professional racing outlook
Comes attached with a removable side reflective R3 stickers
Dimensions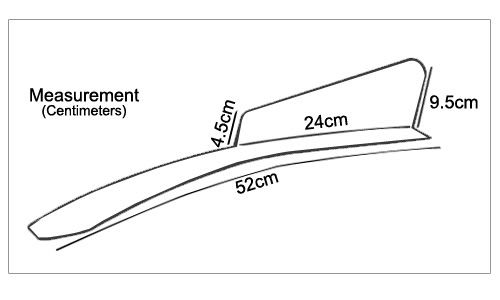 Important Note
Reflective stickers are for cosmetic purposes only. This product is not associated with R3
Package Content
Pair of 100% aluminum front splitter
Returns & Exchange Policy
7-day return/replacement policy applies from the date customer receive the item.
For return/replacement claims:
STEP 1: Email HULALA at help@hulala.my and provide the following details:

Name :
Contact Number :
Delivery Address :
Voucher Number :
Reason of return :

STEP 2: Upon confirmation, HULALA's mailing address will be provided.
STEP 3: Faulty products must be delivered in its original packaging (including accessories, manuals, and documentation) to HULALA. Delivery costs to be covered by customer.
Replacement process will take place about 14 working days.
Return/Replacement claims which do not fulfill the steps above will not be processed due to missing information.
HULALA reserves the right, to change, modify, add, or remove portions of this Return/Replacement Policy at anytime. Changes will be effective with no further notice provided.
HULALA reserves the right to refuse any return/replacement claims for any reason at any given time.